Wednesday, 03 March 2010 09:20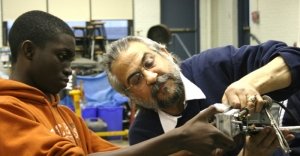 Jerry DiLossi - also known as Mr. D., Jerry D. or Dr. D. - has been teaching auto technology to Philadelphia high school students since Hauger was in kindergarten. He and Ron Preiss deliver our NATEF certified curriculum in the following areas: brakes, electrical/electronic systems, engine performance and suspension & steering.  We are the only NATEF certified school in the Philadelphia School District. This is a big deal. NATEF certification is conferred by the Automotive Society of Excellence (ASE) and is not easy to obtain.
There are about 140 students in the Auto Academy. Jerry D. teaches most of them and it is unfortunate that a pretty large percentage of them don't have much interest in auto technology. After 37 years in the District, Jerry can't understand why he's teaching all these kids who don't give a rat's ass about cars.
If you ask many of the kids how they got to Auto, they'll tell you they don't have a clue. They are telling the truth. Actually, none of us really understand it, but it's partly because our school, the Academy of Automotive and Mechanical Engineering, is a hybrid. It is not a vocational school. It is not a career technical school. It is not a comprehensive high school.  It is a program within a comprehensive high school.
While the Auto Academy is a self-contained operation in a recently renovated building containing academic classrooms, computer labs and auto shops, we are part of West Philadelphia High School (WPHS), a neighborhood comprehensive high school. The main part of WPHS is a hulking structure that was built in 1911 and takes up an entire city block, one street over from the Auto Academy.  West has a long and storied history. Many incredibly successful people graduated from West Philly.  The Speedboys won more than their fair share of athletic championships.
More recently, however, West Philadelphia High's reputation has suffered. It is listed as a school that fails to make adequate yearly progress in standardized testing. It remains on the list of persistently dangerous schools, in spite of a dramatically improved school climate under the leadership of Principal Saliyah Cruz. The 1100 students who are enrolled at West Philadelphia High are assigned to a number of different programs, including Auto.
This means, that even if you have no interest in cars, you may get sent to Auto where you spend 2 class periods a day learning about master cylinders and air conditioners. I think about this a lot. Even though I graduated from a Philadelphia High School 40 years ago, I have vivid recollections of what I liked and didn't like about school.
I can tell you that if I had been put in a cosmetology program or a business program when I was in high school I would have been the most obnoxious and disruptive kid in the class – if I had bothered to come to school. Dr. D. says if anybody had put him in a roofing class he would have flipped out. He hates heights.
The school day is frequently filled with kids telling anyone within earshot what they think about cars, school and anything else that comes to mind. In spite of the frustrations Dr. D. encounters in the classroom, he and Ron Preiss spend hours and hours after school and on the weekends working with the Team – kids who like to work on cars. Beyond that, Dr. D. has become our best recruiter. Sometimes his recruiting methods are a bit unconventional. He's recruited kids who get in trouble. He's told them he'd get them kicked out of Auto if they didn't join the Team. He's told kids to join the team so they can get their lives together.
The results have been amazing. The kids are incredibly hard working. They come into the shop early. They come to school when it's closed. They stay late. This success is a testament to Dr. D's understanding of kids. It is also about what works in education. If you give teachers and students the space to do work that is important and interesting to them, they can achieve great things.  It really does work better than sticking kids in classes they hate.
Monday, 11 January 2010 17:04
When I first started my secondary education courses, nothing that was found in a textbook compared to the student-teaching observations.  You would read about the pros and cons of whole language, the various scenarios of ideal classroom management, and how to find all my boyfriends, Piaget, Maslow, Bloom, and Erikson, in the students' learning patterns.  But it wasn't until my first rounds of student-teaching observations and later in my first year teaching when I realized that I could know my textbooks cover and cover, and I still not know what to do with a pissed off teenager.  Maybe Maslow and Bloom would do a better job than I would the first time around, but no one can say for real.
Looking into Preiss' shop from his classroom, reminds me so much of how important it is to be in the moment of learning.  At 5:15 p.m. on a Monday, there are seven students working in the shop with Preiss, Dilossi, Simon, and Mark.  Mark is a self-employed specialist of the GTM.  He started working with the team a week ago. He fits right in.  He works well with the students in explaining the steps for the kit car.  Every now and then you hear, "shut up, shut up" from the students, which is a good thing.
These students are in the ideal situation.  They are learning something in theory and actually seeing how it works in practice.  Sometimes, I would find myself cringe reading the best practices of the classroom.  It just wouldn't work in reality.  Middle school and high school are the most difficult part of one's upbringing.  There is absolutely no textbook that contains all the right material.  You can't find the answers unless you are actually in the moment.
Within minutes, the students working in the shop confront problems and delays in putting together the GTM.  Poor Justin Clarke, he hurt his finger.  Justin Carter had to measure and remeasure the headlight and nose of the car.  Daniel is remodeling the harness for the Ford.
"I have completely assembled both headlights and started working on mounting them on the nose.  I had to think of different ways of tearing  the fiberglass on the frame of the car to fit the molds of the headlights.  I broke it.  I broke one screw on the corner when I was drilling.  Luckily, three screws would be enough to hold the frame in place. So I lucked up on that end." -from Justin Carter
Despite the setbacks, they are accomplishing a lot.  It is amazing to see what they did to the GTM just within the last week.  You know it is a good day when the shop smells like a campfire from the welding.  More parts are needed to order.  More wrenchs are needed for harnassing.  More hours are needed to prove theories wrong.
Ride or Die
Ms. R